Lauren Boebert, the Republican candidate for the 3rd Congressional District, may not have grown up in the downtrodden Democratic household that she's so often been claiming.
The GOP upstart who shocked the district, state and nation when she defeated five-term incumbent U.S. Rep. Scott Tipton in June's primary, has often claimed her mother, Shawn Elaine Roberts — who also goes by the name of Shawn Bentz or Shawna Roberts-Bentz — was a Democrat living on government welfare, saying she grew up relying too heavily on government.
Her oft-repeated story is that after moving from a liberal area — Denver and Aurora — to a highly conservative one in Garfield County, she saw a different way to live her life, and developed an appreciation for the conservative ideals of liberty and personal responsibility.
But a background check on Boebert and her mother's voter registrations don't back that up.
According to the Colorado Secretary of State's Office, Roberts first registered to vote in Colorado as a Republican in 2001, when Boebert was 14. Those records show that Roberts remained a Republican until changing to unaffiliated in 2013 and then to Democrat in 2015, when Boebert was in her mid- to late 20s and well out of her mother's house, married and with children of her own.
Roberts now is registered as a Republican, changing her affiliation again earlier this year.
When her mother first affiliated with the GOP is the same time Boebert touts getting her first job, at the Rifle McDonald's. She says that's when she learned the value of work and realized one didn't need to rely on government, an experience she says taught her the conservative principles she embraces to this day.
"McDonald's afforded me the opportunity to have a good-paying job," Boebert said. "Because of that, I was able to develop job skills and a work ethic and a passion to put my hand to something to create wealth. It actually was my favorite job."
Despite those conservative ideals, however, state records show that when Boebert first registered to vote in June 2006 when she was 19 years old, she affiliated herself with the Democrats.
She switched her party affiliation to Republican two years later.
Still, Boebert said she was raised to depend on government, but when her family moved to Rifle, she started to see a different, conservative path.
"I was raised in a Democrat household, very dependent on government. We put all of our trust in government, and it was a very limiting way to live life," Boebert said. "I depended on government for food and housing and health care. I stood in line for government cheese. We were told this was the only way to be successful. You vote this way and we'll
take care of you, and there was no incentive to ever get out of the cycle of poverty that we were stuck in. It was complete control that the government had over us. We were made to believe that government was looking out for our best interests all the while I had to be my own defender in everything."
GROWING UP IN GARFIELD COUNTY
Boebert said she was forced to leave high school at age 18 before graduating to help support her family.
That was the same year she had her first child with her husband, Jayson Boebert. The couple later had three more sons.
She said she later got her GED, a high school equivalency degree, but never has said when. A Rifle High School alumni list posted on RifleHighSchool.net wrongly indicates that Boebert graduated in 2004.
While Boebert often talks about her mother, calling her a strong woman who never had an opportunity to realize her full potential, she won't talk about her father, whom her mother divorced when the family still lived in Altamonte Springs, Florida.
There is no record that Roberts ever registered to vote in Florida, according to the Florida Secretary of State's voter registration website.
After that divorce, Roberts moved her daughter and then Lauren's three brothers to Aurora, and later to the Montbello neighborhood in Denver. Lauren's fourth brother arrived after Roberts later moved the family to Rifle in 2002.
Boebert said her mother moved to Garfield County because there were better job opportunities there than in Denver.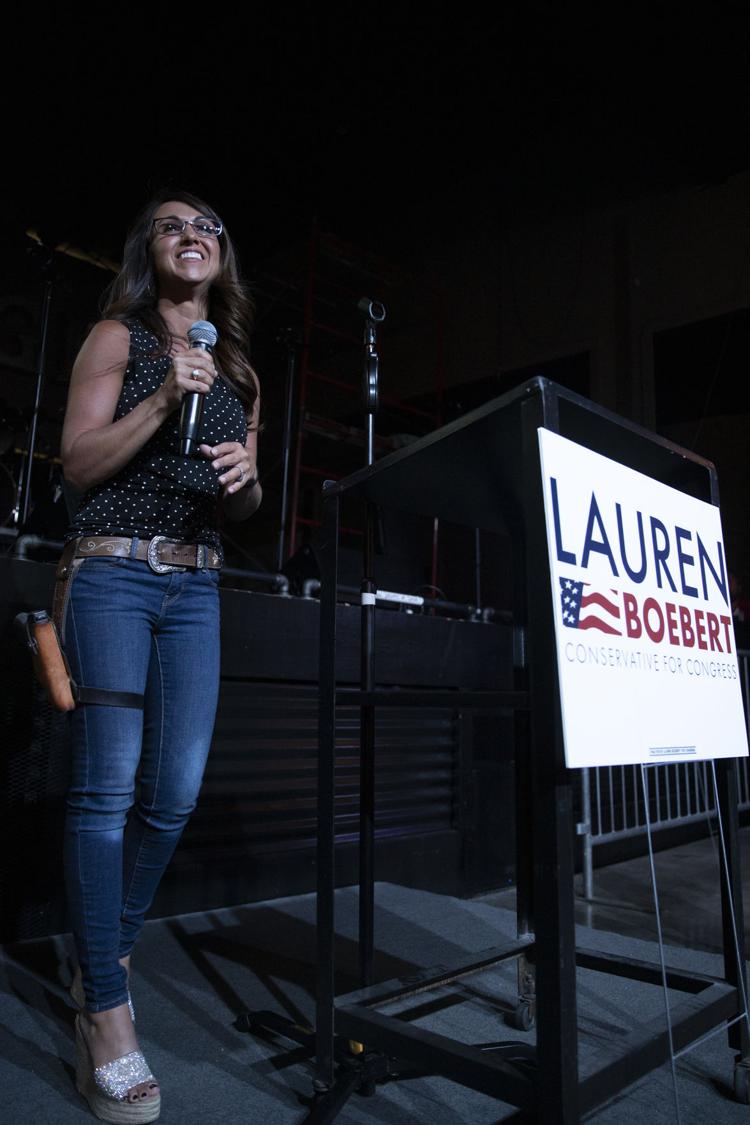 Despite registering as a Democrat at age 19, Boebert now says it was then that she started to mistrust government."I don't trust the government because government thinks it can do a better job taking care of us and running our lives than we can," she said. "I am for personal responsibility. I want to have control over my own life."
According to two Pueblo retired military veterans who have formed a political action committee opposing Boebert's candidacy, the congressional candidate didn't actually get her GED degree until May of this year, about a month before the June primaries and five months after entering the race.
That group, RuralColoradoUnited.org, says it's been looking into Boebert's background and is troubled by what it sees. The group was formed by Pueblo residents George Autobee and Stephen Varela, who describe themselves as combat veterans.
"Nothing about Lauren's story is true," Autobee said in an email. "She is not who she says she is. She has had multiple failed businesses, doesn't pay her taxes, breaks the law frequently, and will do or say anything to get in the spotlight. She has told countless lies on the campaign trail, and we cannot afford this circus in Congress."
PAST LEGAL TROUBLES
Numerous court and law enforcement records show that Boebert has gotten into hot water many times over the years, including criminal charges and financial difficulties.
In 2015, Boebert was arrested by Mesa County sheriff's deputies at a Country Jam event in Mack, where she started yelling at them for detaining underaged drinkers, saying numerous times that she had friends at Fox News and would expose them, according to her arrest affidavit.
"Deputy (Thomas) Stuckenschneider advised Lauren two additional times that she needed to leave the area and stop causing a problem," Deputy Joseph Stratton wrote in the affidavit."
Lauren continued her behavior and was advised that she was being escorted off of the property. Lauren said, 'No, I'm not,' and attempted to run away from our presence. Myself and Deputy Stuckenschneider took physical control of Lauren and advised her she was under arrest for disorderly conduct."
In an interview, Boebert said she did that because she felt an injustice was taking place.
"If I see something that's not right, I'm going to say something about it," she said. "When I see an opportunity to stand up for someone else, I usually act on that. Maybe it's not always the best way to go about things, but I feel a duty to inform people and help them."
Although those charges were eventually dropped a year later, that wasn't until after Boebert failed to appear in court twice on the matter.
In 2016, Boebert was issued a summons on a careless driving charge and for operating an unsafe or defective vehicle in Garfield County, according to arrest records.
After she again failed to appear at an October 2016 court appearance, a warrant was issued for her arrest. In February 2017, she was again arrested and booked into jail on a failure-to-appear misdemeanor charge in that case.
In 2010, Boebert and her husband, Jayson, lost their then-home in a foreclosure case and were later evicted.
That same year, Boebert was cited for violations to the Garfield County Animal Code for allowing her pit bull dogs to remain at-large without proper licensing.
Two years later she was the subject of a civil case filed by Capital One Bank, which won a $1,516 judgment against her, a debt that wasn't ultimately settled until five years later in 2017, court records show.
Court records also show that from 2011 to last year, Boebert had been cited for numerous traffic offenses in Garfield, Clear Creek and Larimer counties, including speeding, following too closely to another vehicle, driving with expired license plates and several citations for failure to use a seatbelt and failure to use proper child restraints.
While some of those charges were either dismissed by prosecutors or the courts, she pleaded guilty to other charges. As the owner of the restaurant Shooter's Grill in Rifle, which had won her national attention because Boebert and many of her staff openly carry sidearms, she's had many issues there, too.
According to Garfield County public health records, her restaurant was cited for such things as potentially hazardous storage of some of her foods, failure to follow mandated hand-washing regulations by staff and failure to get and maintain proper county or state licenses.
In 2017, as many as 80 people became ill after eating pork sliders purchased at a booth her restaurant operated at a local rodeo, pork that was prepared by Smokehouse 1776, another Rifle restaurant in which Boebert has a partial ownership.
Garfield County Public Health said in numerous reports about that incident that several people who consumed the sliders, some of whom were as young as seven, experienced food-borne illnesses, with such serious symptoms as nausea and bloody diarrhea.
The health department concluded it was due to "improper food safety practices of the unlicensed food providers." Boebert's restaurant was the only food vendor at the rodeo that year.
Despite that, her restaurant has been lucrative. According to her financial disclosure statement filed with the Federal Election Commission, Shooter's Grill had a gross income of more than $645,000 and Smokehouse 1776 another $17,700 in 2018.