Daniel Thomason may just be a freshman at Fruita Monument High School, but there's no high jumper in Class 5A better than him.
Thomason cleared 6 feet, 5 inches on Saturday at Jeffco Stadium in Lakewood to win the state title, becoming the first School District 51 athlete of the weekend to capture a title at this year's state track meet. Thomason's leap was his best mark of the season by three inches.
"I wasn't expecting to win it. It hasn't set in, I can't really believe that I actually did it," Thomason said. "My previous best was 6-2. I don't think I did anything different, I think it's just the atmosphere that got me hyped."
Thomason has practiced the high jump nearly every day this season. Even with this being his first track season, Thomason has established himself as one of the best jumpers on the Western Slope.
Still, he and his coach Sarah Cerrone had modest expectations for Saturday.
"He has a crazy amount of talent. We went into the meet knowing that it was effort driven. We knew we had a chance to compete around 6-3. Then it went from trying hard to competitive," Cerrone said. "We had him stay active in between his jumps, just moving around or running. We wanted to keep him loose and warm so that he didn't get cold."
Cerrone said that Thomason wasn't totally sold on his potential in the sport until about a month ago when he began setting personal records.
That's when Thomason learned an important life lesson.
"Keep an open mind. If something doesn't seem possible, just keep trying," he said.
Thomason's Fruita teammate, Gracie Lloyd finished 11th in the girls high jump, almost cracking the top 10.
And Fruita high jumper Adan Flores also turned in an impressive performance. Flores, a senior, entered the event as the 16th and final seed.
"Adan is an incredible kid. I think he's the leader of the high jump squad in the district. He worked really hard this season and helps everyone, no matter their school," Cerrone said. "Tonight we had an incredible start to one career and an incredible end to the other."
De Beque's Lewis goes out on top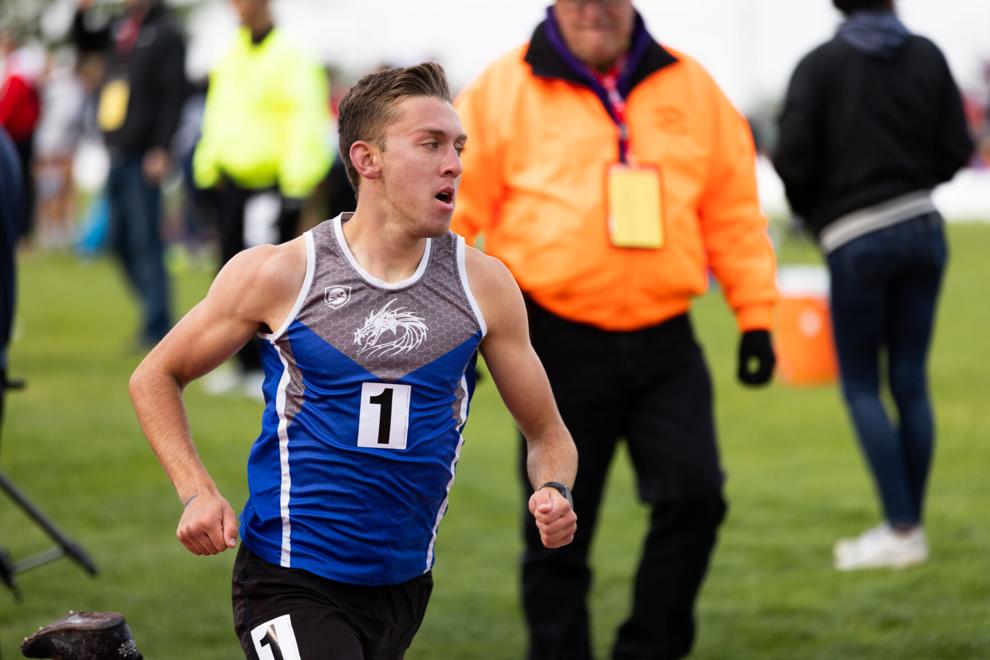 Despite winning a Class 1A state title in the 800 meter run last year, Trevor Lewis was never satisfied.
Convinced that Colorado had yet to see the best of him, Lewis trained harder for distance running.
The De Beque distance runner repeated as the 800 champion when he crossed the finish line 2 minutes, 2.54 seconds.
"It's a lot of work (to get here). Practices aren't easy," he said. "I've been waiting for this for a whole year. I've used all of the meets this season as practice for today."
Lewis edged out Arickaree/Woodlin's Jacob Jefferson by 0.44 seconds for the title.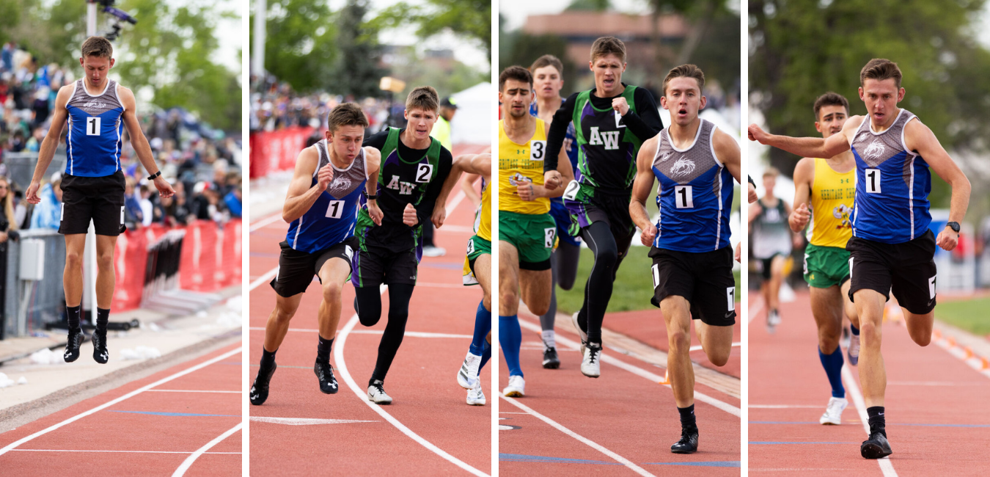 "I knew he was behind me but I didn't know how close he was until the final 200 meters. He passed me and then I started to run harder," he said. "Last year there wasn't a whole lot of competition. It was nice to have someone push me and make it a race, and an enjoyable one."
Lewis won the 800 as a junior with a 2:1.84 time, seven full seconds ahead of second place. He recently signed his letter of intent to run for the University of Alaska-Anchorage and plans to become a firefighter.
"It's not exactly what I wanted time wise, I wish I had done a little better but I can't be too upset," he said. "This wraps up things nicely at De Beque."
Lewis will also run in the 1,600 today.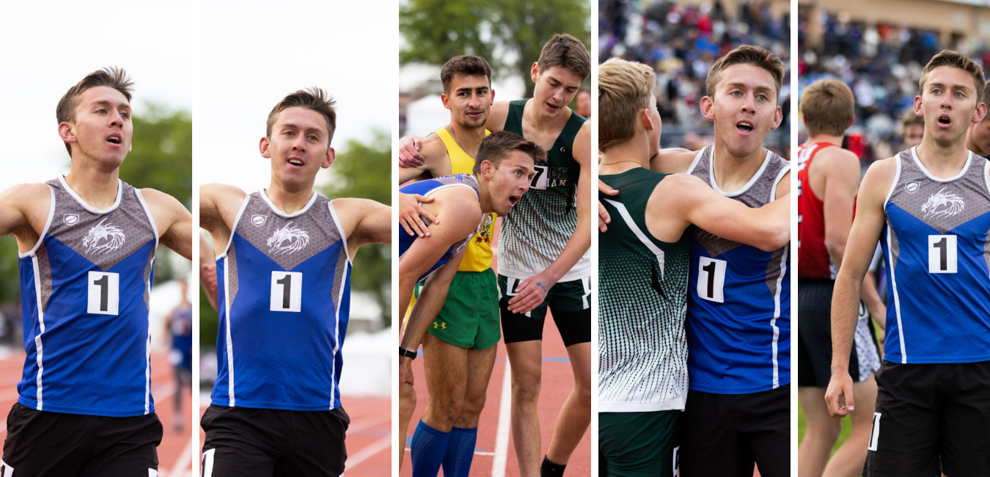 De Beque teammate Scottie Vines is also competing for a state title today in the high jump, an event in which he holds the best height in all of Colorado this season. Vines is also competing in the 110 hurdles and long jump.
The other Dragon to compete on Saturday was Ava Vines in the girls high jump. She cleared 4 feet, 7 inches in her first try but the rest of her entry was ruled a no height and didn't finish.
Cedaredge's Black top of 2A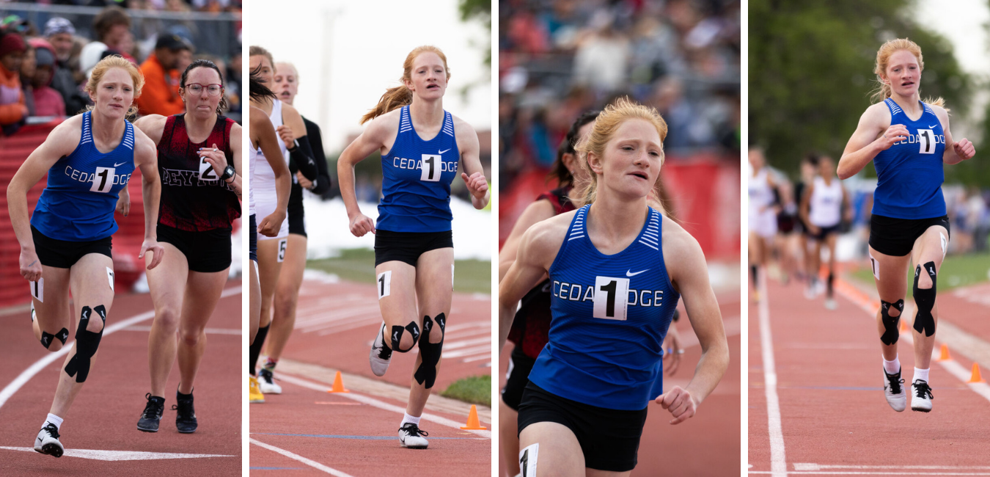 Freshman Jessica Black flew past her competition for a 2A state title in the 800. She finished the race in 2:17.79, nearly seven full seconds ahead of second place.
"It feels really good but I owe a lot to my team and my coaches have prepared me. There are seniors who have helped me so much," Black said.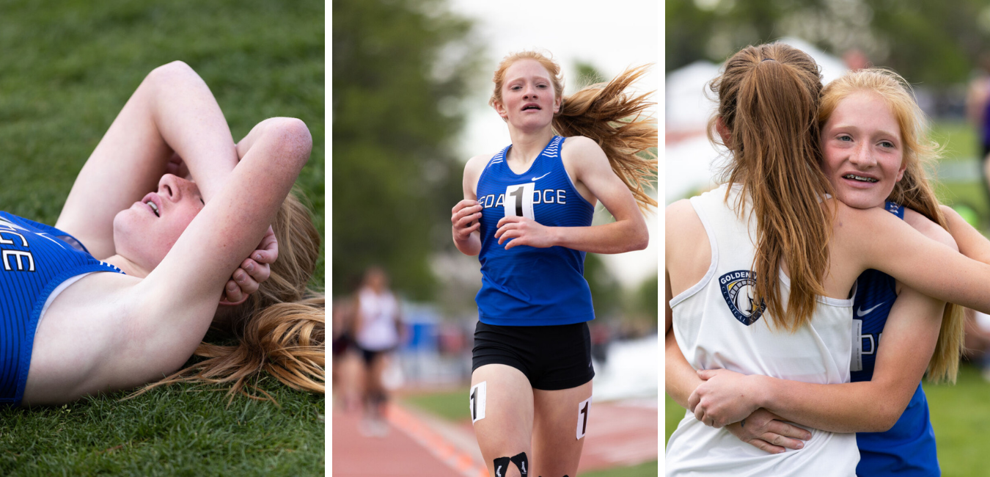 While state can be daunting to many, Black wasn't phased. Her title caps off her first season on the Bruins' track team, a season she split time with while playing for the Delta girls' soccer team.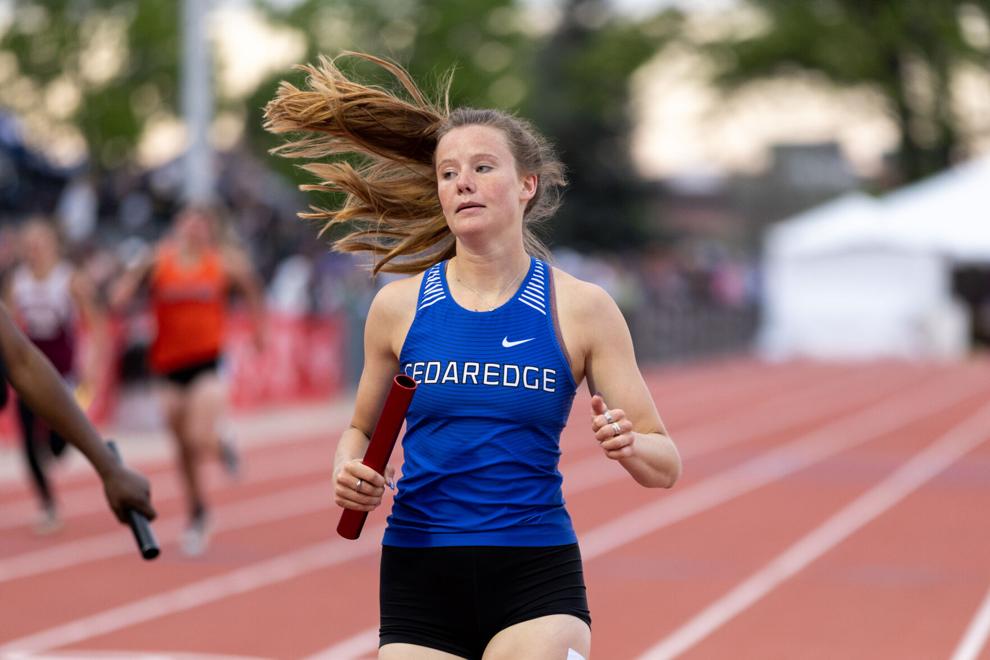 "I have really high standards for myself," she said. "Personally, I'm going to expect more from myself. I don't have a lot of experience in track. This is my first full season and even then, I split my time between soccer."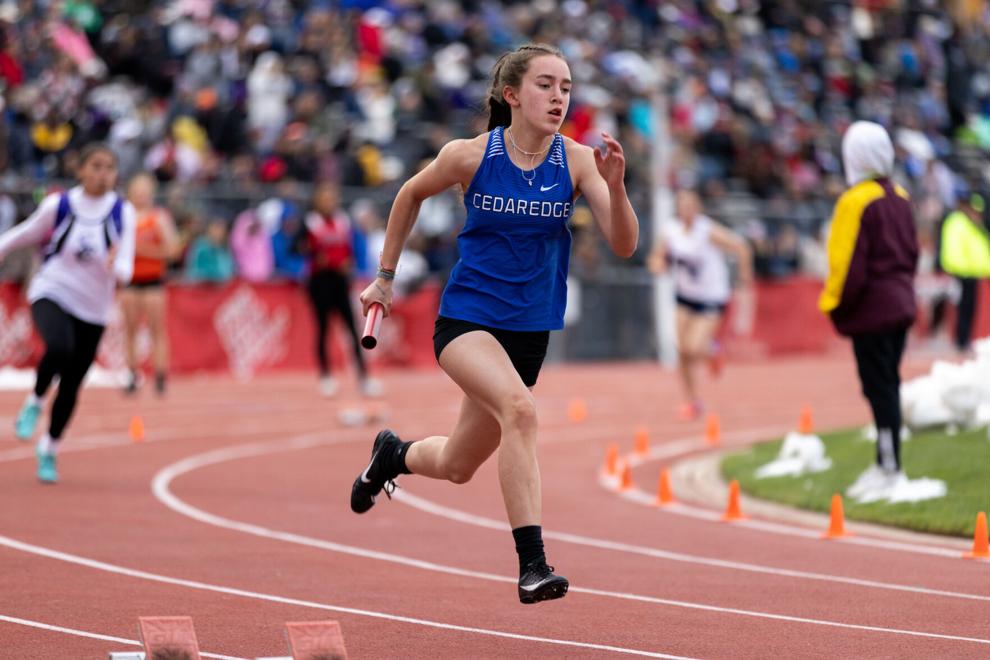 Other Bruins delivered strong performances on Saturday.
The Bruins' 800 medley team of Bailey Nelson, Hailey Hayes-Pursley, Black and Kayla Mitchell placed fourth with a time of 1:55.81.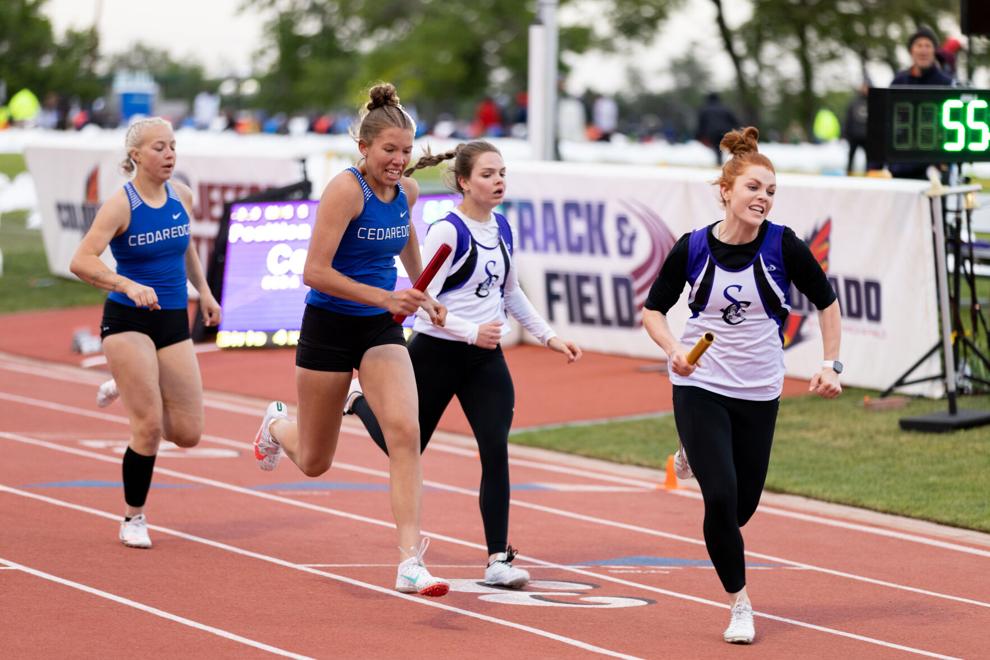 The 4x100 relay team of Bailey Nelson, Mitchell, Shaelyn Hunsberger and Lily Sinkay finished eighth and qualified for the finals with a time of 52.5 seconds.
In the 300 hurdle preliminaries, Megan Jenkins posted the second-best time of 46.36 seconds. Olivia Madden finished 13th and Sinkay placed 14th.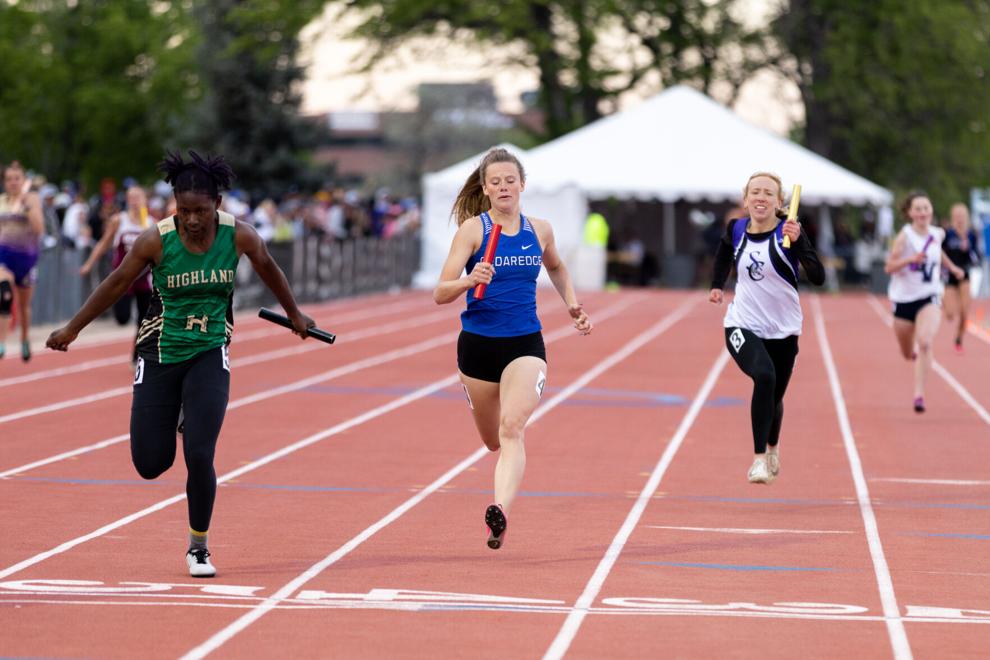 For boys, Logan Tullis qualified for the 300 hurdle finals with a time of 42.79 seconds. The 4x100 team of Sebastian Brinch-Iverson, Luke Maxey, Kade Henderson and Kyler Parker finished 14th in the preliminaries. Nathan Black finished 11th in the 3,200 and Andrew Purvis placed 16th in the 800.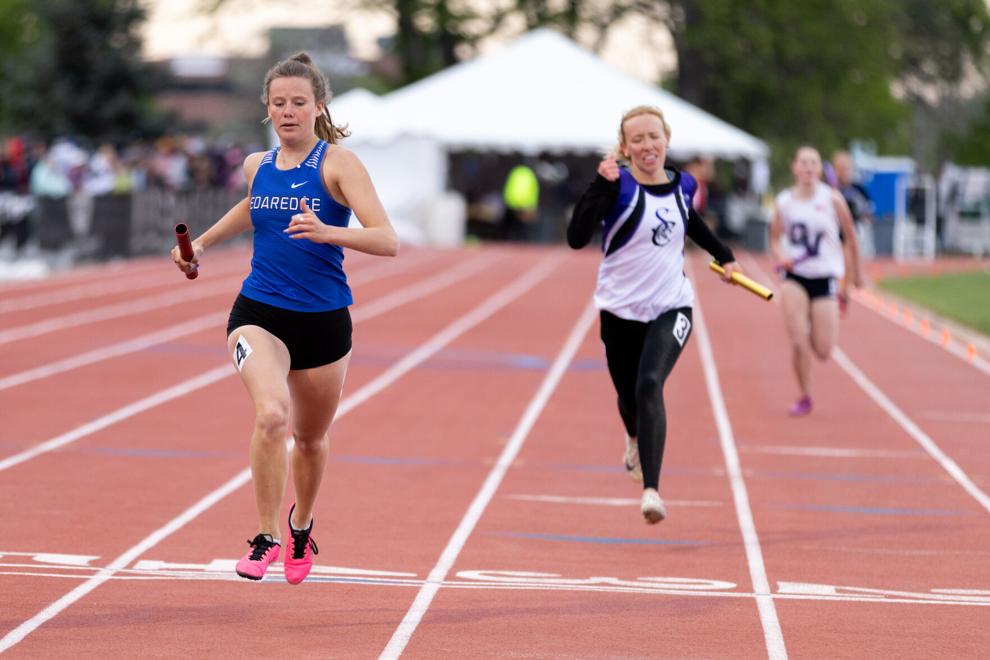 Palisade sending three to finals
Palisade High School is well-represented in the 4A girls finals.
On Saturday, the 4x100 relay team of Ella Yanowich, Kyra Birch, Braeleigh MacAskill and Gabrielle Horton crossed the finish line in 50.17 seconds to finish sixth in the preliminaries.
Horton will also be running the 100 dash and 200 dash today, and figures to be a title contender in both events.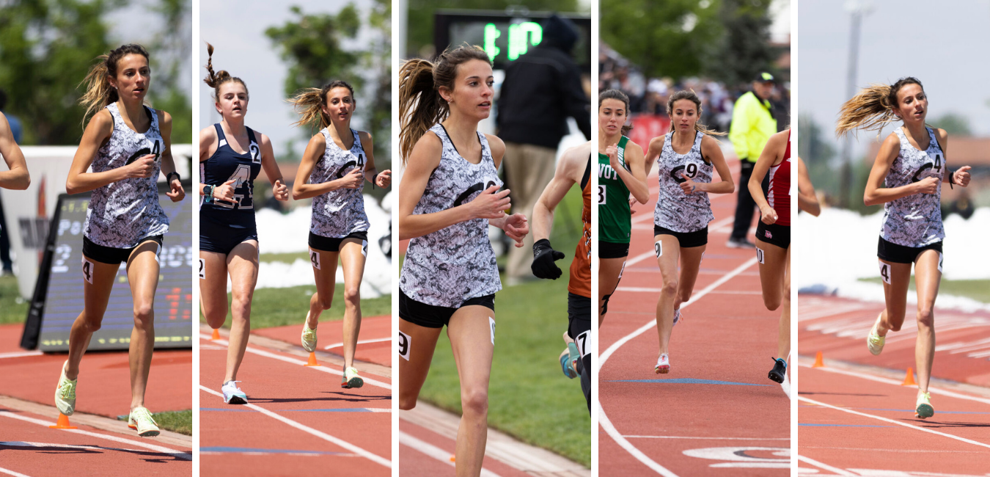 For Central, Tristian Spence made the podium, placing eighth in the 3,200 with a time of 11 minutes, 12.84 seconds. She placed 15th in the 800.
In the boys 3,200, Jackson Edwards placed 17th with a time of 9:48.80. The 4x100 team of Johan Trevizo, Kohl Logsdon, James Montoya and Hunter Richardson crossed the line in 45.49 seconds for 17th place.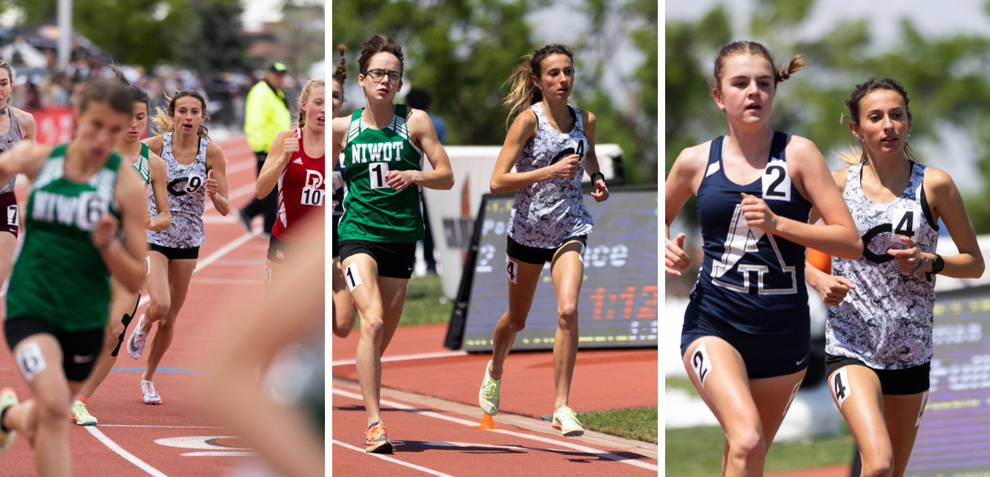 Grand Junction's Miller Jones qualified for the 300 hurdle finals by placing 10th with a time of 40.9 seconds. He also placed 13th in the long jump with a distance of 20 feet, 6.5 inches.
Amelia Moore placed 16th in the long jump with a distance of 15 feet, 7 inches.
Grossman flies to podium for Eagles
Maddie Grossman turned in a solid performance for Caprock Academy in the 3,200. She represented the Eagles at the podium with a ninth-best time of 12 minutes, 40.90 seconds. That was just over seven seconds out of eighth place and two seconds ahead of 10th.
Caprock's 4x100 relay team of Raine Reece, Brooke Chang, Aunna Herrera and Vienna Hartofil placed fifth with a time of 52.24 seconds in Saturday's preliminaries to qualify for the finals.
Montrose relay team places third
The Montrose boys 4x200 team was about a second away from a state title.
The group of Alonzo Leiba, Amaris Mora, Isaac Renfrow and Junior Rodriguez finished third with a time of 1:29.42. The first-place Erie team won with a 1:28.45 mark.
Montrose's girls 4x200 team of Taylor Foster, Olivia Renfrow, Sarah McGarry and Madison Lucero reached the podium by finishing eighth. The group completed the race in 1:48.61.
McGarry finished fifth in the long jump with a distance of 17 feet, 5 inches.
Delta's boys 4x200 team reached the podium by placing fifth. The 4x100 team (Damien Gallegos, Hunter Goff, Saw Blessing and Nathan Scarnhorst) finished 11th, and John Dexter finished 14th in the 800.
On the girls side, the 4x100 team (Baylee Wilson, Kaelynn Porter, Raelee McCurdy and Kylie Huff) placed 15th in the preliminaries.
North Fork continues to succeed
The Miners' girls 4x200 team (​​Payton Carver, Indigo Miller-Barnes, Leia Ellenberger and Kacie McCollum) finished second with a time of 1:45.9, just more than one a second out of first place.
The 4x100 team (Lottie Hollembeak, Payton Carver, Leia Ellenberger and Kacie McCollum) shined in the preliminaries, finishing with a third-best time of 50.22 seconds.
Boys shot put thrower Markem Buzzell finished third with a distance of 45 feet, 11.5 inches.
Grand Valley thrower cracks top five
Jacob Doyle represented Parachute well while throwing the discus. He reached 144 feet, 6 inches to place fourth.
Kade Sackett finished 11th in the 800.
The girls 4x100 team (Ellie Hossack, Ainsley Selle, Aspen Merrifield, Sarah Kracht) nearly cracked the top five, finishing sixth and two-tenths of a second behind Caprock.
Merrifield also placed eighth in the pole vault.
On the boys side, the 4x100 team (Peter Hossack, Connor Blunt, Zach Ekelson and Dagon Dade) finished third in the preliminaries.
Meeker had three boys in the pole vault. Casey Bring finished fifth, Kelton Turner tied for eighth and Owen Hannemann landed at 11th.
Rangely's Scoggins has two great performances
Mary Scoggins made the podium by finishing fourth in the 800. She missed third place by about a second. She also finished fourth in the long jump.
Hayley Burr placed fifth in the 300 hurdle preliminaries to qualify for the finals.
The girls 800 medley team (Burr, Ryann Mergelman, Miah Wren and Ashlynn Ducey) finished eighth. The 4x100 team (Ducey, Wren, Mergelman, Emma Smith) finished 18th in the preliminaries.
Kenyon Cochrane finished fifth in the discus and James Talbot finished 10th in the 3,200.
Plateau Valley's Ealey places towards top
Devon Ealey made Collbran proud when he finished second in the triple jump.
Meloni Miller also made the podium by finishing ninth in the shot put.
Nucla has entered the battle
Keiran Bray placed 11th in the 800 with a time of 2:42.17.
Olathe did not have any competitors on Saturday.