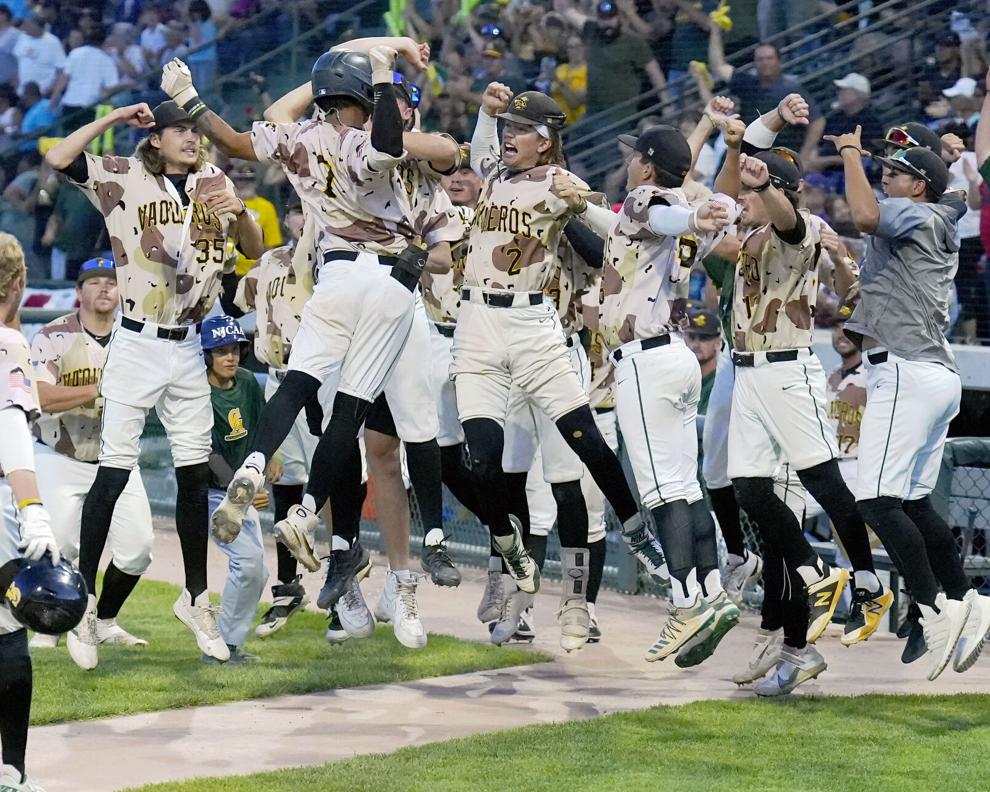 Anthony Gilich ticked off a list of what he called a "who's who" of junior college baseball teams that Central Arizona had to beat to reach tonight's championship game of the Alpine Bank Junior College World Series.
"It's unbelievable. I mean, the teams that we've had to go through to get where we're at is incredible," the Vaqueros' coach said Friday night after they won their ninth straight elimination game in the playoffs, 7-4 over Walters State (Tennessee).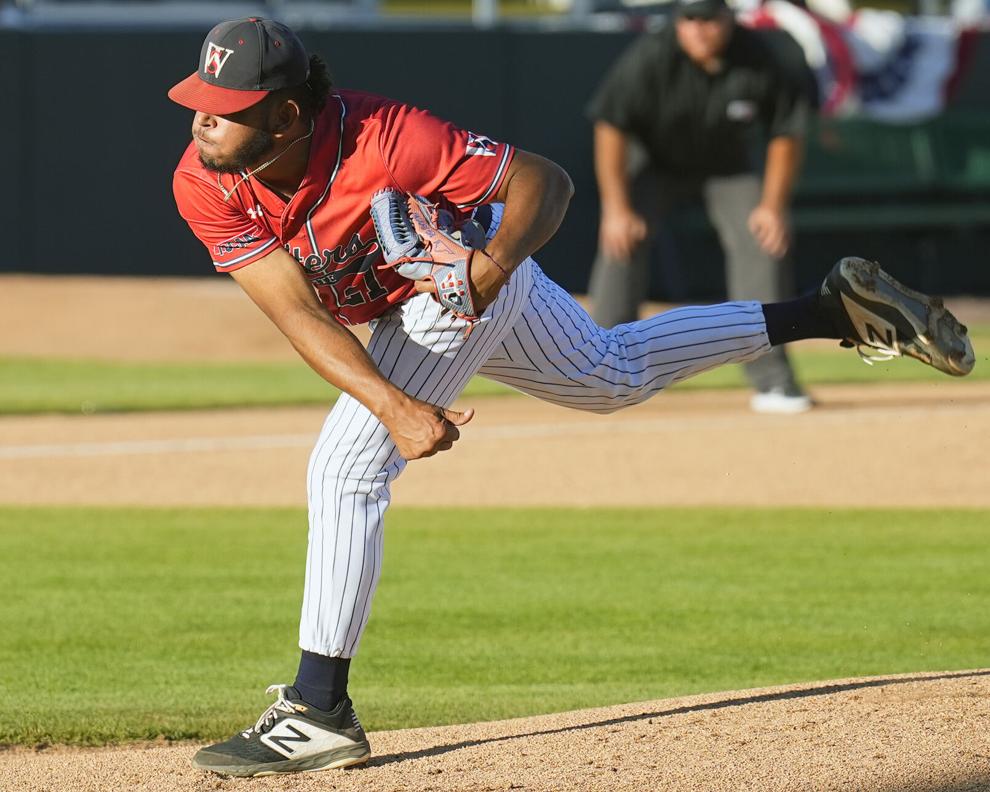 "From San Jac to Crowder to Wabash to Walters State. I mean, that's kind of the who's who of junior college baseball, and so for us, to lay it all on the line each time and come out on top is pretty special."
You can add Central Arizona to that who's who list — the Vaqueros will play in the championship game for the third straight tournament. They won it all in 2019, defeating Iowa Western, and after 2020 was canceled, the Vaqueros lost to McLennan Community College (Texas) a year ago.
"We believe in ourselves, we believe in what we're doing," Gilich said. "I mean, this is the third year in a row we're in the championship game … the third year in a row in the championship environment and that's pretty special."
They got some special performances Friday, starting with Tyler Woessner, who found out Friday morning what he expected, that he'd get the start.
Woessner allowed three runs on eight hits through seven innings, striking out eight and walking three. He never let the hard-hitting Senators capitalize when they got runners in scoring position.
"I don't think that had anything to do with us, it was Central Arizona and their pitcher, he just … every time he needed to make a big pitch, he made it," Walters State coach David Shelton said. "That's what a horse does, and Geo (Rivera) matched him early on. I couldn't be prouder of the job that he did keeping us in there. I knew he was the one guy that we had left that would give us a chance against those guys."
Kory Klingenbeck tripled in the second inning on a ball that Tyrese Johnson lost in the setting sun, which was blinding for the left side of the defenses the first three innings. Woessner hit Andrew Ott, who stole second, but then struck out the next two batters to leave two runners stranded.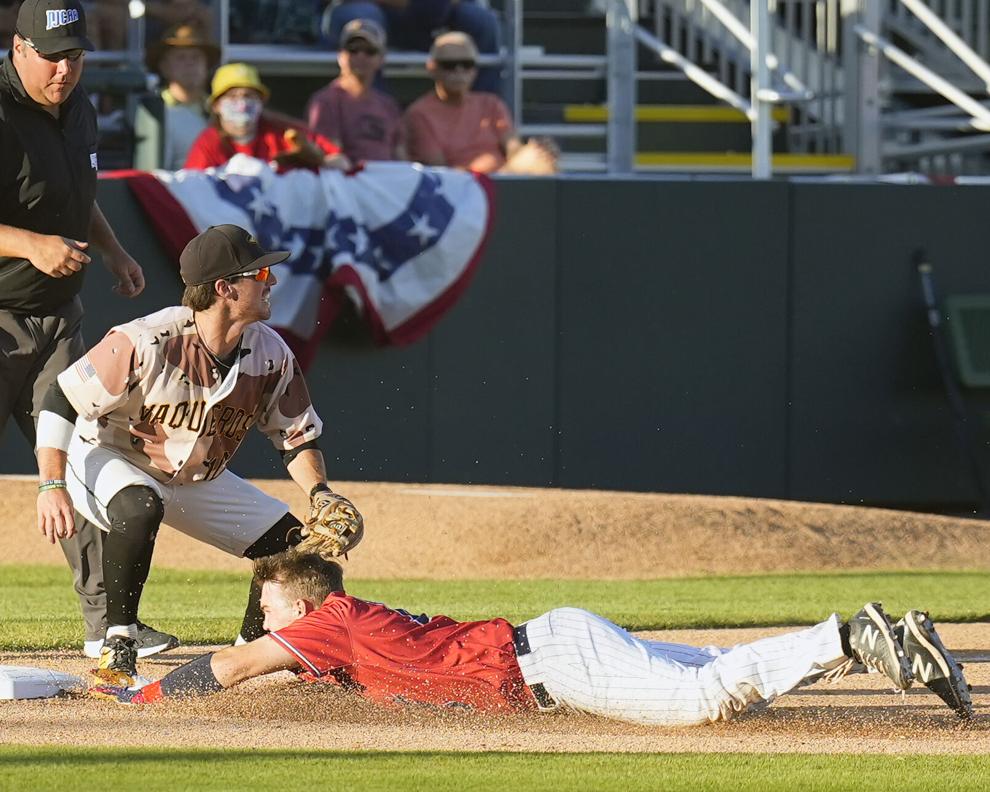 The fifth was another big inning for the Vaqueros' right-hander, who had command of his fastball and just got better as the game went along.
After Nick Block's home run tied it at 3-3, Walters State had two runners in scoring position with one out.
"Runners on third and second, one out, I told myself that they're not going to touch a baseball," Woessner said. "They're not going to touch another baseball. I just dug deep and did what I could, and it worked."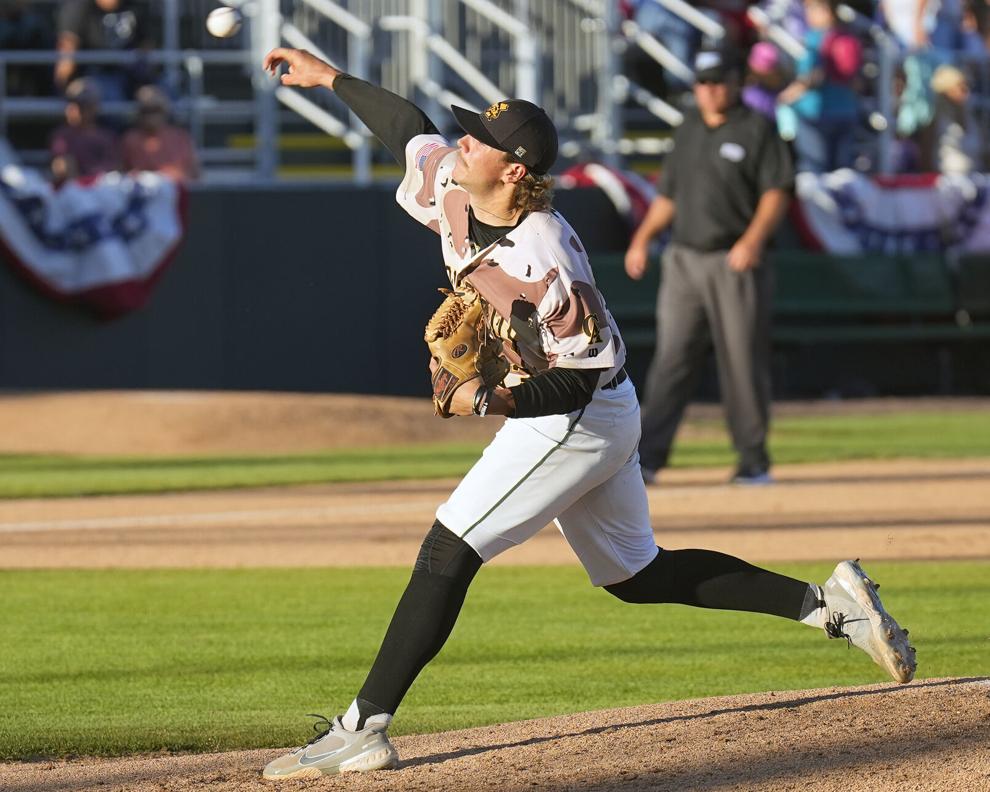 He got Klingenbeck looking and struck out Ott on his 101st pitch of the game, a 96 mph fastball.
"I don't know if you were watching the radar gun a whole lot, but when that guy needed to go up and get one, he would, he'd turn it loose," Shelton said. "He was hitting 97 pretty regularly out there.
"It was almost as if, when we got something going, it made him mad and he turned it loose a little bit."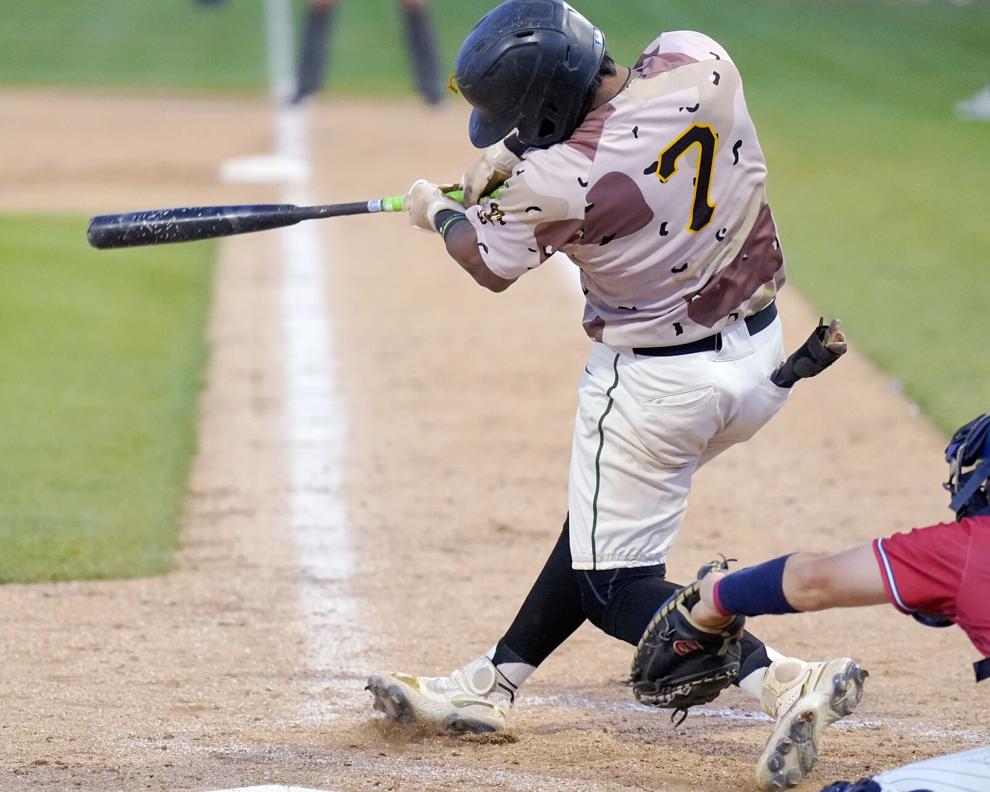 Down 2-0, Romero blasted his sixth home run of the week, tying the tournament record shared by Jeff Kipila of Brookdale (New Jersey, 1986) and Jerry Shepherd of Middle Georgia (1990), a three-run shot to right-center in the top of the fifth.
It was Romero's only hit of the game, but it was a big one.
"That was definitely a momentum swing," Romero said. "They got two in the bottom of the fourth and I knew we needed a big answer. Trey (Newman) did a hell of a job getting on base and Ryan (Ball) got hit by a pitch and then they played good bunt defense on us (to force Newman at third on Jaylin Rae's bunt). I just kind of calmed myself down and knew I needed to come through for the team there."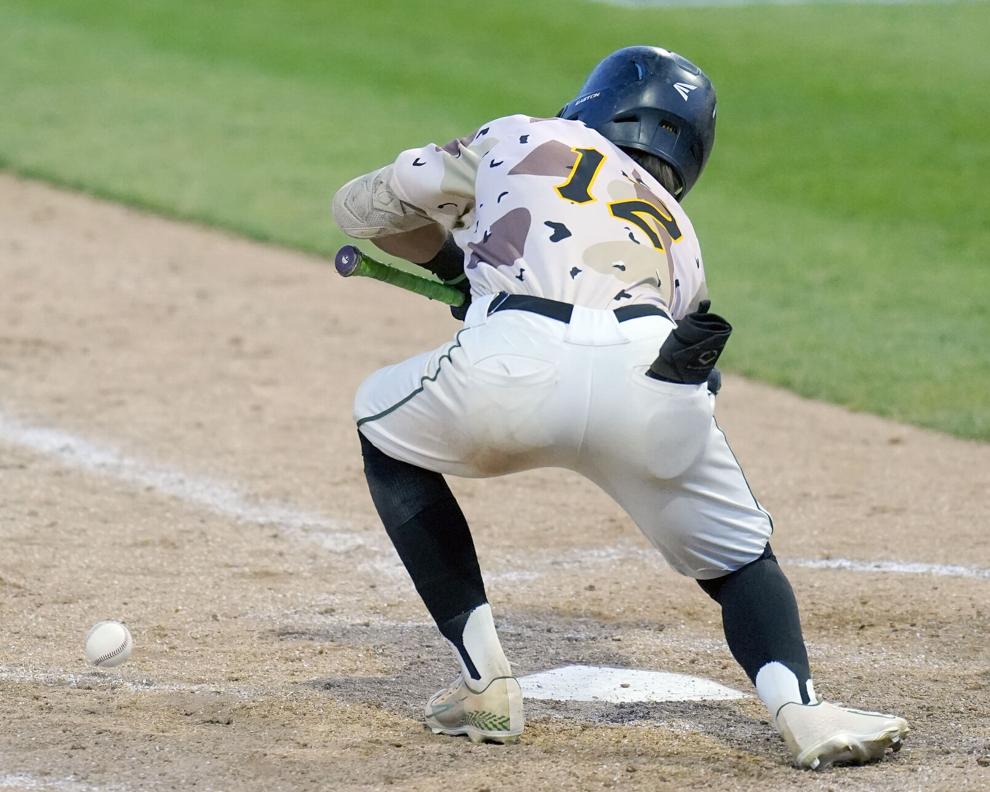 The Vaqueros took the lead for good when Tyrese Johnson hit one into the outfield bleachers to make it 4-3.
It was the 67th home run of the tournament, breaking the record that was set in 2017.
"It seems like we've been seeing the ball well all year and the transition from wood to metal has been good for us," Johnson said. "We've got guys with plus-plus power, guys with the ability to drive the ball to all fields, and we've just been capitalizing on the pitching."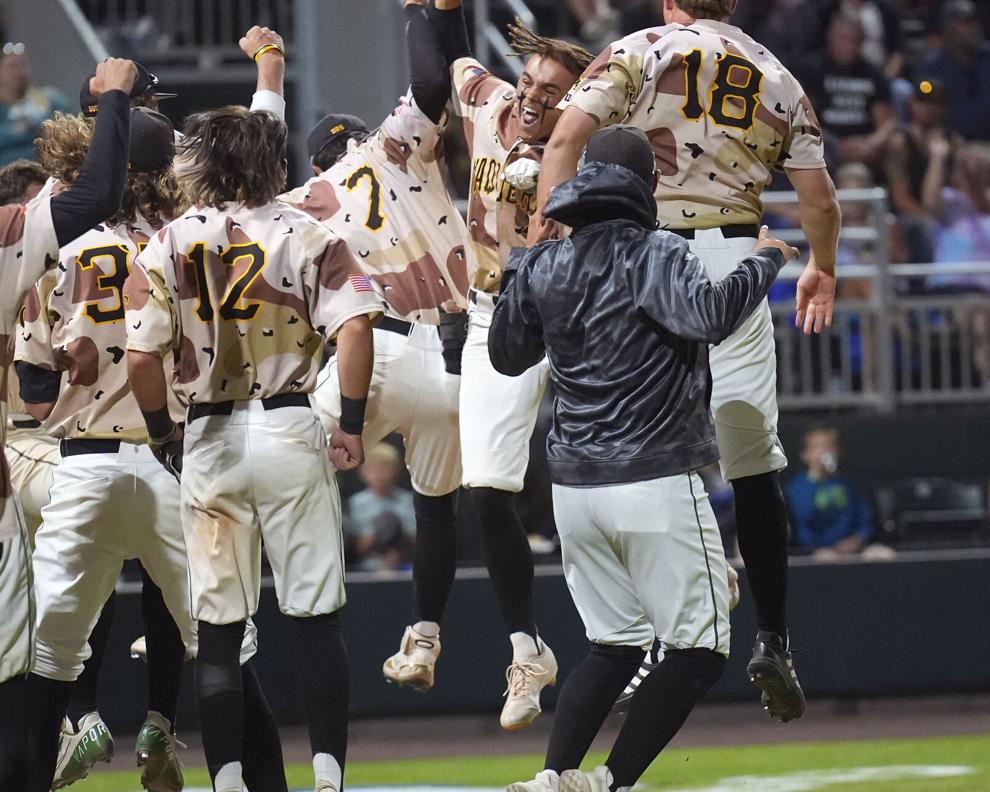 Ryan Ball banged one off the scoreboard in the seventh for Central Arizona, and the Vaqueros (59-13) added a pair of insurance runs in the eighth.
Marmo led off the ninth with a home run down the left field line (No. 69 in the tournament) to give the Senators a chance to rally. Reliever Shane Spencer slammed the door with a runner on first after a one-out error, striking out Noah Gent and getting Corbin Shaw to ground out to short.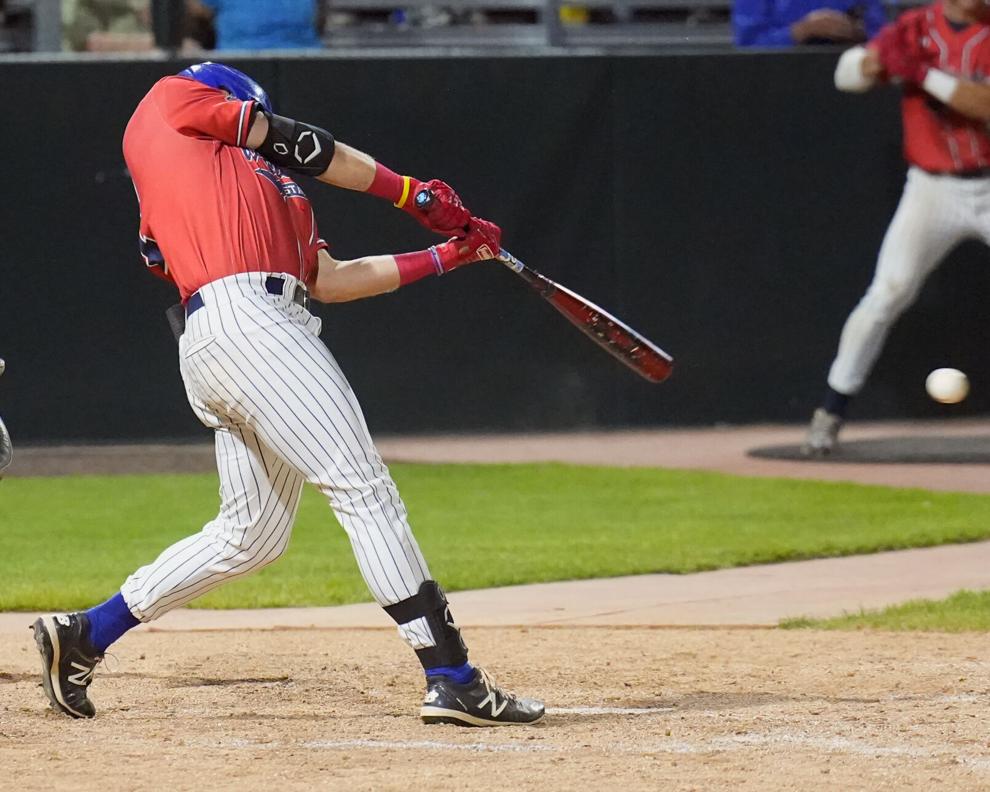 That, Romero insisted, was when the Vaqueros knew they would be playing one more game this season.
The loss ended an incredible run by the Senators' sophomores, who went 121-14 the past two seasons — and didn't lose back-to-back games in those two years until the final two of their junior college careers.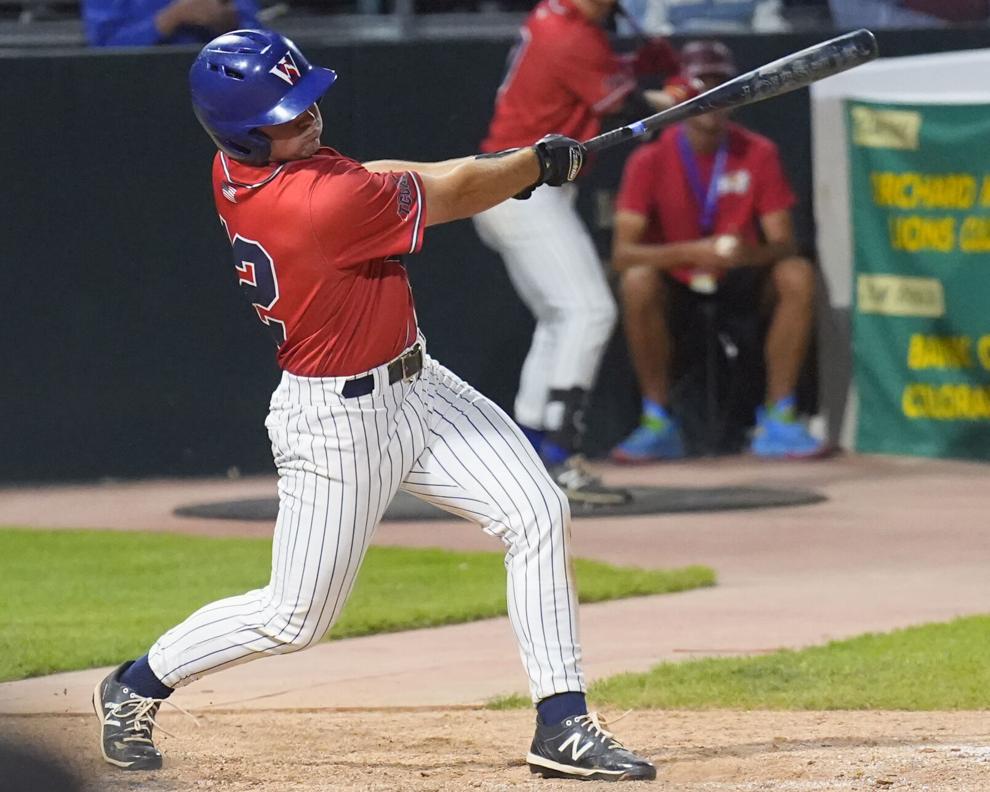 "The chemistry, everyone wanting to do their best for each other, that will do more than just having a whole bunch of talent on the team," Caleb McNeely said. "You're not gonna do it just for showing off like, I hit this ball so hard, or I made this play. It's we won, not I did this. I'd say this year's team (had) the most chemistry of any team I've been on."
Winning 60 games in back-to-back seasons, both of which ended at the JUCO World Series, is an accomplishment in itself, Shelton said.
"The guys that are sophomores that were here last year, that's consecutive 60-win seasons, two trips to the World Series," Shelton said. "That's pretty impressive There's a lot of kids out there that don't get to win 60 games in their combined four years of college, so to have two 60-win seasons and to legitimately get out here and compete for a national championship both years, it's pretty special. It's a special group."
The pressure of playing nine games with their season on the line doesn't faze the Vaqueros — it's what they trained to do.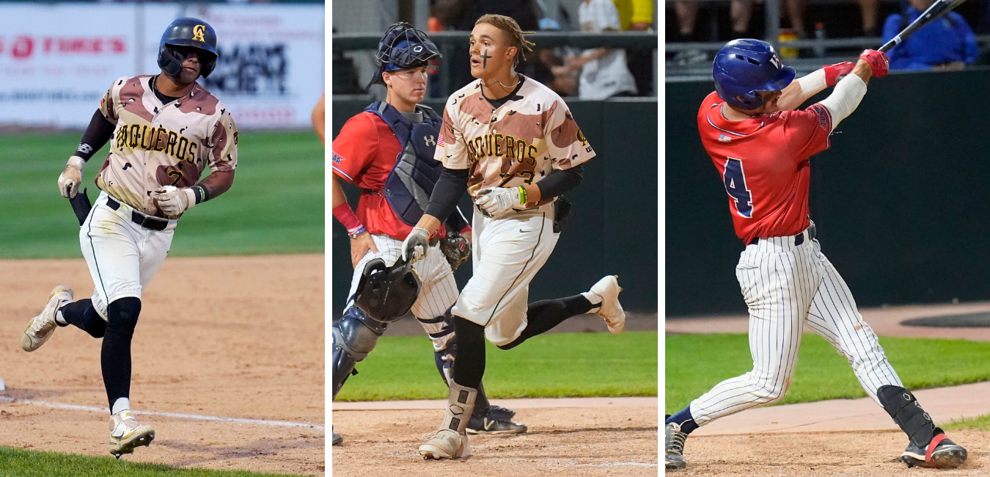 "You're in the national championship, you're going to push all your chips in," Gilich said. "That's exactly what we've been doing the whole season. We talk about in our program, game seven. You don't need to explain what game seven is, everyone knows what that is, so we tried to treat every game like it's game seven.
"We put that on our dugout card, we talk about it a lot. Even in our fall games, we had like 20-some fall games and we feel like tomorrow … sure, tomorrow's game seven, but we've had 95 chances at game seven."